When I think of school subjects, the first areas that come to mind are language arts, math, science, and social studies. Since these areas are required subjects, they're often areas of focus for parents when they are planning at-home learning activities. But, the summer learning gap doesn't just impact the four core subjects, it takes a toll on their education as a whole. And, research has shown that foreign languages are valuable for students in many ways. In this series, entitled Summer Enrichment Activities, we've gathered some of the fun ways to make sure the summertime is filled with educational opportunities for kids in as many topics as possible, including learning world languages.
Try these five activities below to develop or preserve your child's world language skills!
1. Flash cards
How many times a week do you mention the weather? A lot, right? If it's sunny, you'll plan for outdoor activities. If it's raining, you'll plan for indoor activities or pack your umbrella. And if it's cold and windy, you'll have to remind your children multiple times to remember their jackets. That's why learning how to talk about the weather in a foreign language is a great way to build a world language vocabulary!
2. Songs
Research has shown that the benefits of music education include students' academic success, so why not spark your child's interest in a world language through music? Start with easy songs like "Happy Birthday," "Head, Shoulders, Knees, and Toes," or the "ABCs," so your students are able to correlate the familiar tunes with new lyrics.  
3. Food or drink
Turn your summer snack time into a world language lesson by trying a new dish from around the globe! You may be surprised to find that your favorite food is a German pretzel, or you may even find a new favorite! Add a math lesson by teaching your kids valuable skills in the kitchen, or make it into a history lesson by teaching your kids some historical facts about the country you've chosen. What a delightful way to learn!
4. Craft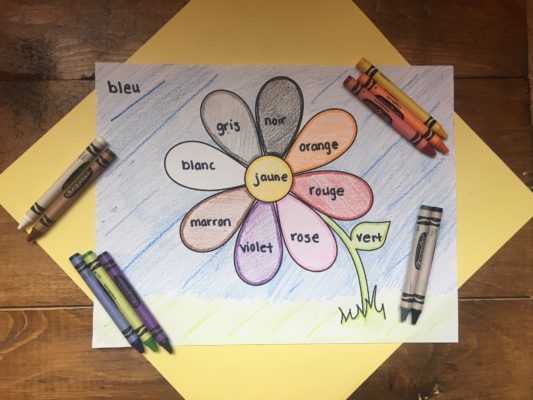 One of the first lessons I taught my daughter was to identify colors, so we decided to start there with a world language, too. We started by printing a blank flower, writing in the names of colors in French, and coloring in the petals, stem, and background while we learned. Some of the colors were easy because they're pronounced similarly in English, but some took a little longer to grasp.
5. Clock
Another topic that is brought up over and over throughout the day is the time, so it's an easy lesson to add in. Cut flower petals out for each hour on the clock, and write "It's one o'clock," "It's two o'clock," etc. in whatever language you choose on each petal. Take it a step further by cutting out smaller leaves, and adding "quarter past one," "half past," "midnight," etc. Tape them around the clock you use often to practice speaking the time in your chosen language.
6. Read
Not sure where to find resources on teaching a world language? Or learning it yourself? Take a trip to your public library, and you'll find books on a variety of topics in many languages, from Spanish to sign language, in print or digitally. You can even borrow a DVD to help you and your children learn in a different way, and watch it as a family. This will create a connection to what your kids are learning, and give you plenty of discussion topics for the dinner table!
7. Write
The Association of Psychological Science reported that students who physically take notes receive a memory boost. Put those facts to work by getting a pen and some paper, and physically jotting down what you're learning. Whether you trace the letters, write one word over and over again, fill in the blank, or respond with a full paragraph, you're bound to see results because of your productivity.
How are you keeping your kids learning this summer? Share your ideas with us in the comments.