Getting your kids involved in cooking can be a great bonding experience as well as a learning opportunity. At Learning Liftoff we've discussed the benefits of cooking and shared a ton of recipes for you and your family to enjoy. We wanted to touch on another method of cooking which is fun for kids, easy to prepare, and very family friendly: slow cookers or crock pots. There are also several benefits to cooking with slow cookers, especially with kids:
It can get your kids interested in cooking
There is no open flame or oven when cooking
They can easily get involved in the prep work whether it is measuring, opening cans, or slicing and dicing
Many recipes require very little prep time
It's easy to hide some veggies in the mix, so you can ensure they are eating healthy
Your home smells awesome
Leftovers
A slow cooker uses low heat to cook food for a long amount of time (4-8 hours), which is perfect for getting the prep work done in the morning so it's ready just in time for dinner. Below are a couple of recipes broken down by the primary ingredient for each.
Please note:
If any of these recipes seem daunting don't worry +/- an ingredient is usually fine, and be sure to check out substitutions for ingredients if you don't have one in your cupboard
If any recipe includes a bay leaf, be sure to remove it before serving
Chicken
Image via eatingwell
Mmm… chicken. This wonderful bird has an unlimited number of uses and can be cooked in almost any way. Not to mention the eggs this feathered fowl provides can be added to almost any meal as an extra ingredient or a meal on its own. Now chicken nuggets are great, they're delicious and fun to dip and eat. However from a nutritional stand point, anything deep fried doesn't tend to be healthy. Plus what's the traditional side with nuggets? French fries—also not too good for you. Why not try something delicious and healthier?
Sweet potatoes are the#1 vegetable for nutrition. If you can get your kids interested in eating sweet potatoes you are helping to ensure they get their daily amount of essential vitamins.
This dish is loaded with protein, which is great brain food. Cashews are high in protein and essential fats which make them a great compliment to this meal.
Beef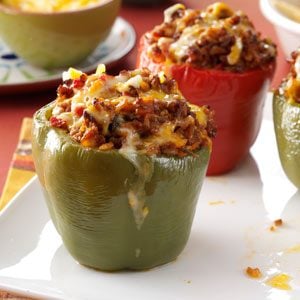 Image via tasteofhome
The cow may be one of the most important animals in American's diet. Milk, beef and leather all come from this beautiful bovine. Not to mention depending on which cut you use, the meat has different tastes and textures.
This may be the most fun recipe for kids to help with. After all the ingredients are prepped, have your kids mix them with their hands, and stuff the mixture into each pepper.
I have the pleasure of being part Irish which I am very thankful for because corned beef and cabbage is delicious. It often is knocked for its looks and maybe its smell, but this is one of the heartiest dishes and very tasty. You don't have to wait until St. Paddy's Day to try it either.
Pork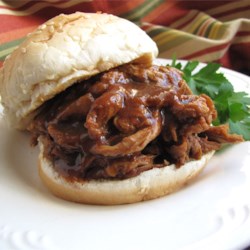 Image via allrecipes
Pork, the meat that can be served at any meal: bacon, ham sandwiches then pork chops? That is a delicious day and it's all thanks to the stupendous swine. Don't limit this ingredient to the same uses over and over again though, kick it up a notch with some of these delectable recipes.
If you're looking for a hearty winter meal, this is the way to go. Loaded with protein and carbs this meal is the perfect way to recover after a long day outside. Be aware when choosing any canned or packaged good, that it may be high in sodium so be sure to check the nutrition label.
Only four recipes in and my mouth is watering. This is one of my favorite recipes to make as it is super easy. It only requires four ingredients, but you can experiment by adding a bottle of root beer or leave out the onions, and it will still be satisfying.
Vegetarian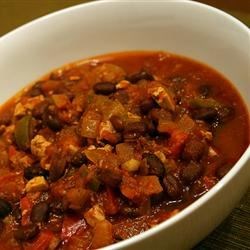 Image via allrecipes
Of course we must include some veggies recipes. These are healthy alternatives, and just because the meat is left out doesn't mean the flavor is. Thanks to these valuable vegetables we get a variety of full-flavored options.
One of the best meals for a group, whether it's a birthday party, sporting event or just a family gathering. Chili has been a staple in the American diet since the pioneering days. There is a reason why this meal has lasted throughout generations…. I don't know the reason, but I know chili is delicious.
The more layers the better. If your kids love meat lasagna this is a great way to substitute in some veggies. Eggplant, tomato, zucchini, and mushrooms can all be added to this dish.
Fish
Image via Better Homes and Gardens
I was not expecting to find any fish recipes as fish usually takes a shorter amount of time to cook, so cooking for six hours didn't seem right. Which it turns out is true, be sure to read the instructions on these, because you have to add the fish after the base or broth is cooked. These super sea-faring fish are a great source of lean protein and also contain Omega-3, which is super good for you.
If anything can be said about this dish, it is the most fun to say on the list (bo͞o(l)yəˈbās, or 'BOO-YAH! base'). This is a great dish in that you can choose between several types of fish or substitute fish for more shrimp.
Of course there are two kinds of clam chowder, New England and the [toggler title="wrong kind" ]Manhattan[/toggler]. In this recipe it is important to point out that you do include the clams at the beginning of the process. If you are looking for a healthy, hearty soup to warm you up this winter, this is a go-to.
Soups
Image via Better Homes and Gardens
Crock pots and soups just make sense to together. You can throw pretty much anything into a pot and call it soup, so let your creative juices flow in these recipes. Feel free to modify as you see fit!
Italian Vegetable and Pasta Soup
This is a a great soup on its own, but a perfect example of how you can add your favorite protein to the mix, or substitute rice instead of pasta.
Yes, you read that correctly. Hamburger. Soup. It's soup but hamburger. I feel like I don't need to say anything else. If you want a cheeseburger, sprinkle some cheddar or mozzarella on top. This recipe even has potatoes so you (kind of) get french fries too.
These are just a few crock pot recipes to get you started, but hopefully you and your family have fun making and tasting them. If you have a family favorite, please share in the comments!
---