Easter is a right around the corner, so it's the perfect time to share some ideas for Easter-related crafts and other fun things for you and your family to prep for the Easter Bunny's arrival.
When I was a kid the[toggler title="Easter Bunny" ]My parents[/toggler] always left a half-eaten carrot and some [toggler title="Droppings" ]Whole Black Peppercorns[/toggler] and I could usually follow some muddy [toggler title="Paw Prints" ]dirt shaped like paws[/toggler] to the back door.
You have to prepare for the Easter Bunny though, so here are some craft ideas you and your family can do.
Be sure to visit the K12 Pinterest Board for Easter Activities!
CRAFTS FOR THE KIDS
Be the funny bunny
Bunny Paper Plates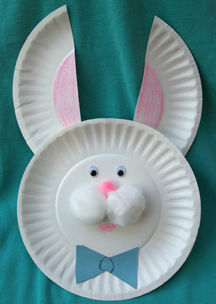 Hand-Painted Chick
CRAFTS FOR THE HOUSE
A Despicable Twist on Egg Hunts
Egg Shell Candles
FOOD
Jello Deviled Eggs
Marshmallow Bark
Fun Facts
The History Channel reviews several aspects of Easter. Why it is celebrated on Sundays, why we hunt eggs, and why everything is centered around a bunny.
[embedvideo id="eOa5hl4lMvc" website="youtube"]
Quick facts about Easter from IBTimes:
Chocolate eggs, the most popular of Easter candies, were first made in Europe in the early 19th century and remain among the most popular treats associated with Easter.
After Halloween, Easter is the second top-selling confectionery holiday followed by Christmas and Valentine's Day.
Hot cross buns were among the earliest Easter treats, made by European monks and given to the poor during Lent.
Among the sweet items, the red jellybean is an all time favorite with children.
The largest Easter Egg ever made was just over 25 feet in height, weighing up to 8,968 lbs and was made of chocolate and marshmallow, entering the Guinness Book of World Records.
---
Featured Image – Somewhere in the world today… / CC by 2.0