I watched MasterChef Junior for the first time this week and was so impressed by the knowledge those kids have of cooking at such a young age. With just a few ingredients, a classic recipe can really become something spectacular. Bring that knowledge into your own home this Thanksgiving, and cook with your kids to build valuable skills. Today, we're sharing our picks for the top five easy recipes for Thanksgiving.
Ham and Asparagus Roll-Up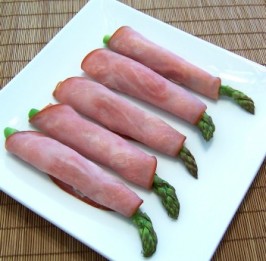 via Food.com
This ham and asparagus roll-up may be the easiest appetizer ever, but it brings a whole bunch of flavor. Talk to your kids about the different flavors they are experiencing and how different foods can compliment each other.
Mac and Cheese in Cupcake Form
via The Curvy Carrot
Put a cute twist on Grandma's mac and cheese by baking them in cupcake form. You could probably do this with most side dishes, and EVERYTHING will finally fit on your plate.
Stuffing
via Buzzfeed
It's National Stuffing Month (surprise!), and what would Thanksgiving really be without it? Try to incorporate something different into your stuffing recipe with one ingredient, like cranberries, which can really be a game changer. Other options could include fennel, artichoke, or another vegetable that your kids will be astonished to hear was in the side dish.
Turkey
via Noshon.it
The main course is more than likely a turkey, but not only do you want to give it a personal touch, you want it to work well with your sides. Talk to your kids about the whole menu, and decide what Thanksgiving turkey recipe will make sense with your items.
Holiday Pies
via Learning Liftoff
Bring any Thanksgiving dinner to a close with a pie. Big, small, pumpkin, pecan—take your pick! We found 5 holiday pies you're sure to enjoy this year.
Share your recipes in the comments below or on social media by tagging @K12Learn on Twitter and Instagram.