Back-to-school season is filled with excitement for the anticipation of what the school year may hold, but how can you stretch that feeling to last throughout the year? We checked in with mom experts, and they have some simple solutions for a successful school year that could be added to your school supplies list, but may not be something you purchase in the store.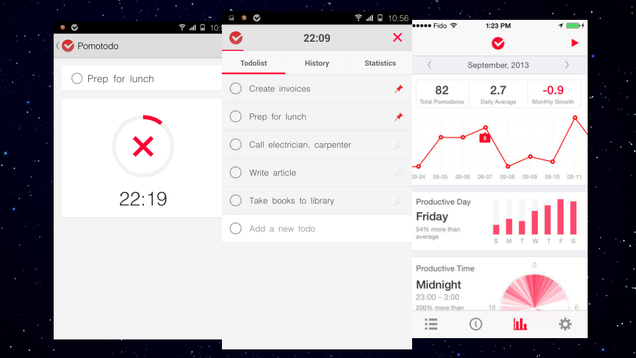 I've always been a fan of to-do lists. Through high school, college, and my professional and personal life, I've felt that I'm trying to balance too many tasks, and things inevitably fall through the cracks. In the past, I've relied heavily on written to-do lists, but notes seem to get lost with each additional page. This is why I was so excited to discover Pomotodo. I've used to-do lists like this in the past, but there were always shortcomings. Mostly, the list was stuck on my phone and didn't sync with the cloud for easy access on other devices, but Pomotodo does this beautifully.
via LifeHacker
One of my favorite tools is Google Calendar. When we previously wrote about Google Calendar, we explained many of the benefits, but what it boils down to is the ability to view and edit documents from a laptop, tablet, or smartphone. Having access to an up-to-date schedule everywhere you go is a huge plus. Add key dates and reminders to your calendar before the school year starts to stay on top of things as the school year progresses. Recurring events/reminders can keep you on track when your schedule inevitably gets busy.
via Scholastic
In order to see you, the parent, as more than a disciplinarian or teacher, make sure you spend quality time with your children. Whether it's talking or working on a hobby, make sure you have fun away from schoolwork—together!
via BonBon Break
Whether there are several 5-minute breaks or one 30-minute walk, get your kids moving throughout the day! Try an exercise game or a video, and make sure to move every day!
Creating quiet time boxes is a great way for you and your kids to take a break or get work done. These boxes can be a home for books, worksheets, toys, Play-Doh, etc., but no electronics. Try using your quiet time box for at least 30 minutes a day. Although children may not necessarily be still, they are alone and quiet.
So get those kids moving, spend time together, and remember to keep it simple this year. Make sure to check out our Bring It Inside Pinterest board for more ideas to add to your to do list, and for the must-have school supply lists that you can buy for preschool,  elementary, middle, and high school.
You can also give some inspiration to families by telling us your story, or leave a comment below with something you're going to make sure is part of your upcoming school year.
[schedule on='2015-08-11′ at="03:01″ expon='2015-09-15′ expat="23:55″]Gearing up for back-to-school? Save 10% on individual courses at k12courses.com, but don't wait, sale ends September 15th.[/schedule]
[schedule on='2015-08-01′ at="03:01″ expon='2015-10-02′ expat="23:55″]
[/schedule]
This article was updated August 2015
---