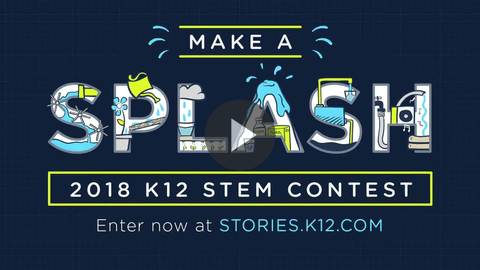 Have you ever heard the phrase "work smarter, not harder?" If you watched the video above, then you know that was not the idea behind these so-called Rube Goldberg machines. A Rube Goldberg machine is all about creating a machine (or contraption or invention or device or apparatus) that uses a chain reaction to accomplish a very simple task in a very complicated manner. For example, the simple task of making a splash is accomplished through a convoluted series of events: the slingshot releases (A) and shoots a car (B) that knocks down erasers (C). Those erasers push a ball (D) that knocks down a series of toys (E), and another ball drops down a shoot (F) and lands in a cup of water and makes a splash!
Whew! Did you follow that complicated series of events? Why on Earth would someone invent such a complicated machine to complete such a simple task? To answer that question, we must first take a closer look at the man who dreamed up these types of contraptions: Rube Goldberg.
Rube was born Reuben Lucius Goldberg on the 4th of July in 1883, in San Francisco, California. He first started doodling as a young child, and his passion for art grew in his teenage years. But, Rube put his art interest aside when he followed his father's advice to study engineering while he attended the University of California at Berkeley.
Engineering couldn't keep his attention for long, though. Soon enough, Rube was creating cartoons for local San Francisco newspapers, and he eventually moved to New York where he landed a job as a cartoonist. Throughout his career, Rube used his background in engineering to give him inspiration for his wonky drawings. His inventions were a way of seeing the humor in everyday situations, and he loved that his work made people laugh. He once described his cartoon inventions as a "symbol of man's capacity for exerting maximum effort to accomplish minimal results."
His popularity went through the roof, and Rube quickly became a nationally known artist. His estimated 50,000 works were displayed everywhere, from the Museum of Modern Art in New York City to Hollywood with his movie script "Soup to Nuts" which we all know now as the Three Stooges. Even now, Rube's fame stands out as he is the only person—not just artist—to be listed in the Merriam-Webster Dictionary as an adjective.
He didn't know it then, but Rube not only used his own STEM Education, he inspired it, too. Because STEM isn't just science, technology, engineering, or mathematics by themselves; it's the four subjects married to create a cohesive learning paradigm. In the same way, a Rube Goldberg machine isn't just a drawing; it's the bonding of art and engineering that built innovative masterpieces. Thanks to critical thinkers like Rube, we've enabled a younger generation of critical thinkers.
[schedule on='2018-02-07′ at="03:01″ expon='2018-03-09′ expat="16:55″]We hope you enjoyed learning all about Rube Goldberg and his machines. Now you can use that knowledge by participating in K12's 2018 STEM Contest. The contest is open to students in kindergarten through 12th grade and the challenge is to build an original Rube Goldberg machine with one goal in mind—MAKE A SPLASH! How complicated can your student make this simple task? Challenge your child to enter this competition and they could win!  All submissions must be received at stories.k12.com by March 9, 2018.[/schedule]