While it's not the most important meal of the day (that honor goes to breakfast) lunch is still an important part of any student's day. Eating lunch "re-energizes your body and can raise blood sugar levels when focus and concentration are flagging," so a healthy and balanced lunch is important for fueling kids' learning through the end of the day.
In fact, eating healthy lunches may also improve students' grades. According to one study, "children who ate more fruits, vegetables and protein and fewer calories from fat, performed better on literacy tests compared to children with a high-fat, high-salt diet."
But with picky eaters, allergies and school policies, and busy schedules, it can be tough to come up with lunches kids will want to eat, and it's all too easy to fall into a lunchtime rut. We rounded up some quick, fun, and nutritious back to school lunch ideas and tips that are perfect for fueling your students, whether you're packing a lunchbox to send to school or need to feed a houseful of hungry homeschoolers.
Choose healthy foods
While processed convenience foods seem easy, they don't provide the best nutrition for growing bodies. But that doesn't mean lunch has to be complicated, or boring. Try to incorporate nutritious whole foods and limit processed foods and sugary drinks and sweets. Substitute whole grains, and include fruits, veggies, and leaner proteins. Keep it simple for yourself by referring to the chart below and combining (or letting kids choose) one item from each category to make a healthy lunch. This could mean a sandwich, a wrap, a snack plate assortment, or a bento box lunch like some of the ones we've rounded up below.
Turn leftovers into easy lunches
If you're cooking a meal for dinner that your kids like, save time by making extra and serving it for lunch, or use part of the meal to create lunch the next day. For example, last night's leftover roast chicken can make an appearance at lunch in chicken salad sandwiches. Find more great ideas for leftovers-turned-lunches at the link below.
via Keeley Mcguire
Get creative
Muffin tin meals are one of the most popular ideas online for young kids and toddlers (especially picky eaters). Fill each muffin cup with healthy finger foods like fruits and veggies, small pieces of a sandwich or wrap, and hummus or dressing to dip. Many moms swear by muffin tin lunches for getting kids to try new foods by presenting them in a new way. 
Bento boxes are another way to get creative, and make a lunch kids will want to eat. While they can get more elaborate, you can make a simple and cute bento box like the one below with just a cookie cutter.
via Alpha Mom
 Switch up your sandwiches
Sandwiches don't have to be boring. Try swapping basic bread for a whole wheat pita, which can be stuffed with anything, from mediterranean ingredients like hummus and veggies to sandwich standards like turkey and cheese, or tuna salad.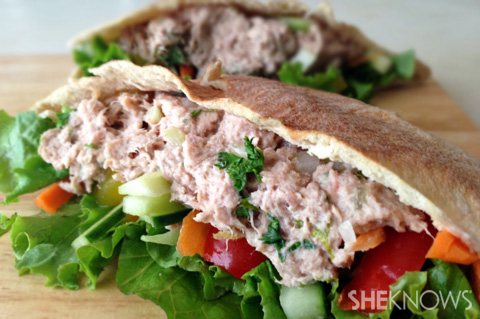 via Chef Mom
Or use tortillas to make your kids' favorite sandwich a wrap. Instead of the usual PB&J, why not try a twist on a kid-approved favorite, like the pizza-inspired wrap below?
via Eating Well
Try using cookie cutters to add fun shapes to your sandwiches. You could even use two different kinds of bread for a two-tone effect, as in the picture below.
via Spoonful
Get the kids involved
Organize your fridge to make it easy for kids to make their own lunches, whether they're taking it to school, or eating at home. Use fridge boxes to group sandwich ingredients like meat and cheese, as well as fruits, veggies, and other snacks. Let kids pack their own lunch by choosing one protein, one grain, one fruit, one veggie, and one (small) treat.
via Care.com
What's for lunch? Tell us your favorite lunch ideas in the comments!
[schedule on='2015-08-01′ at="03:01″ expon='2015-10-02′ expat="23:55″]
[/schedule]
This article was updated August 2015
---