Sending family Christmas photos to friends and relatives is a great way to stay connected, but taking the same standard portrait every year may get a bit boring. So why not try a little creativity with this year's family photo?
For inspiration on how to make your photos more fun and creative, take a look at the original ideas featured below. But first, here are some general tips to consider before you tell everyone to say "cheese."
Choose Simple Clothing
You don't want what your family is wearing to be the focus of the photo, so stick to simple, solid colors that complement each other. It's not necessary to all dress completely alike, unless you like that look, but maintaining some consistency for each family member's outfit will improve the final results.
Lean Toward the Light
Some of the photo ideas featured below call for low-light conditions, but for most photos you'll want indirect light. Outdoor light is best, but avoid direct sunlight, which may result in shadows and squinting. Experts say the best time for taking photos outside is shortly after sunrise or an hour before sunset. If you take your photo indoors, try to find a bright area, such as having your subjects face a window (so the light is behind the photographer).
Set Up the Shot in Advance
It can take time to set up the background and position the camera, so don't bring your family together for the photo until after everything is ready. You want to be sure you're capturing excited, happy faces and not bored, irritated expressions!
Location, Location, Location!
Whether you choose a festive scene—such as a Christmas tree, cozy fireplace, or in front of lighted decorations—or you find a non-traditional setting, it will help to try out possible photo locations ahead of time. Before making your final decision, take preliminary shots of your chosen locales to judge how they'll look when photographed.
Hiring a professional photographer is always an option, but with a little effort you can capture a family holiday photo that everyone will want to keep! And making it more creative may even become a new tradition!
Use a Christmas Ornament
Image courtesy of Niagara Newborn Photographer Tamsen Donker of Creative Clicks Photography
Capturing your family's reflection, especially via a holiday icon like a Christmas tree ornament, can be an unexpected way to illustrate the magic of the season. It may take a few tries, but simply posing the family grouped together in front of a reflective bulb will eventually get you the results you're looking for. The photo above, from Creative Clicks Photography, gets the family and some of the tree within the image, and it really stands out with the slightly blurred background. You can also remove the camera/photographer from the shot with Photoshop if you prefer.
Try Variations of Reflective Photos
Image courtesy of Open Aperture Photography
Another way to create the reflective image is to feature just one child in the shot. Pulling back to include him or her looking at the ornament from behind can add more depth to the image. You can also attach the person's name on the featured ornament with a bow, as in this example from Open Aperture Photography.
Other reflective surfaces, such as a still lake or an icy surface, also work well for this technique. You can even try shadows and silhouettes for a truly artsy look. For flat areas such as water and ice, bring your camera very close to the surface for the best effect and choose a time when the lighting is best—either early morning or as the sun is just starting to set.
Add Some Lights
Image courtesy of JoopJoop Designs Photography
Adding a string of lights certainly adds to the festive mood of any holiday, so why not include them in your yearly family photo? The whole family can get tangled in the lights or you can save the look for just the kids. The lights add a nice glow to the photo and the subjects. Turn off the flash for this pic to ensure that the lights truly glow, but keep some natural light in the room as well.
Lights, Camera . . . Don't Forget the Action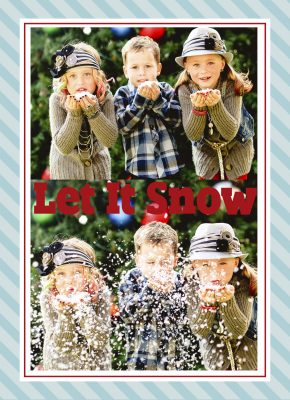 Courtesy of Britain Earl Photography
Who says everyone has to stay perfectly still for the family photo?! This clever pic, from Britain Earl Photography, is a fun action shot that has just the right amount of festivity for the season. Her card includes the before-and-after photos, but you could just use the final image. To create this cheery effect, simply buy a bag of fake snow at Target or Walmart (or try using confetti) and have your kids hold some in their hands until just the right moment when they all blow slowly at the same time. It could get messy, so try having them stand on a sheet or flat surface for easier clean up. See more details on how to achieve this action photo on Britain Earl's blog site .
The Modern Family Picture-in-Picture Effect
Courtesy of Bale Family Holiday Cards
Aside from being a creative idea for a family photo, this picture-in-a-picture image has the added benefit of ensuring that everyone gets to choose their best photo for the final, combined image! Most of the magic for this family image comes when each individual photo is cropped, copied, and pasted into the next photo using editing software such as Photoshop. "This was one of the easiest Christmas cards we have ever done," Lori Bale of Bale Family Holiday Cards says. "Each family member was photographed holding a big white cardboard [posterboard]. Once the best photos were selected, my husband inserted the photo on the cardboard using Photoshop, working from smallest photo to largest photo." For some alternative ideas, try having each family member hold an actual frame. Or add a Santa hat to make things more festive. It also helps to keep everyone in similar clothes and to use a plain background.
Write with Light
Image courtesy of George Atanassov
This kind of light-writing photo may take some time to get right, but if you're going for originality, it may be worth the effort. You could have your family write out the new year, as this photographer did back in 2013, or draw a simple symbol such as a heart or tree. Be sure to get long-lasting sparklers so there's enough time to spell out the message. Also, you'll need a camera with a manual mode. Read the detailed instructions on how to get this shot before trying it. You can get the same effect by using a flashlight, glow stick, or LED light, but the room must be somewhat dark.
Go Back to Vacation Mode
So, it's not festive. It's not even a winter scene. But using a photo from your family's summer vacation can be a nice change from all the pics of kids posing in holiday sweaters that will be circulating this time of year. And if you can set up a shot such as this one that includes a creative composition and inspirational scenery, your family photo will stand out and may even relieve some stress for your recipients. If you can plan ahead while on vacation, consider building a snowman in the sand to pose with!
Bring Santa to Town
Santa hats make everyone cuter and everything more festive for the holiday. If you dress in similar monotone colors, like white or gray and keep the background simple, your red Santa hats will really pop in the photo!
And don't forget to include your pet for some added cuteness!
Make It Fun and Festive!
Image courtesy of Chris Becker blog.thebecker.com
Just a simple shot in front of a Christmas tree or other holiday icon can still be creative and stand out from the rest of the cards. What makes this photo special is the happy but candid expressions on everyone's faces. It just took some funny dance moves on the part of the photographer to take this family photo from boring to fun. Kids are delightfully expressive, so telling a funny joke or giving them some surprising news may be all you need to do to get genuine looks of joy.
Involve the Pets
Image courtesy of Dustin Gaffke used with permission
Pets are part of the family, so what better way to show your love for your best friends than to include them in your family Christmas Photo! Creative poses, like putting your dog in the driver's seat are sure to be remembered for years to come. Although they may take a little patience to set up!
Do you have a creative family photo idea for a holiday card? Please share your experience with us in the comments section!